Valérie Aimard
&
Antonina Zharava
cello
Cédric Lorel
Piano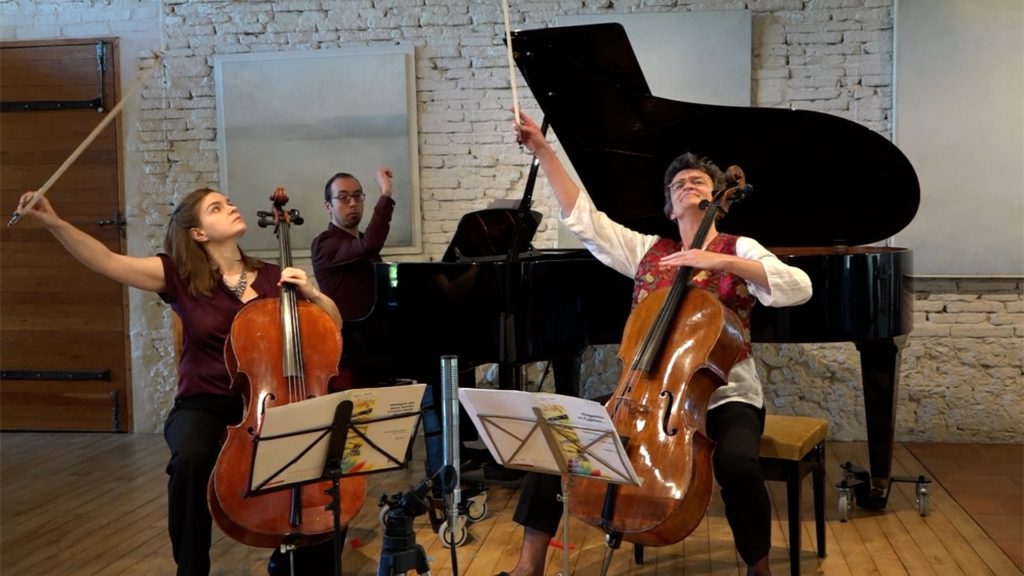 Passionate musicians and devoted pedagogues, Valérie Aimard, Antonina Zharava and Cédric Lorel, all based in Paris, met at the Maurice Ravel Conservatory – Paris 13th where they teach cello and piano accompaniment.
In 2014 these friends, colleagues and performers, created "Cellissimo !!! », an ensemble dedicated to repertoire for two cellos and piano. Their first appearance at the Festival « Violoncelle en Seine » in Paris motivated them to continue this musical adventure together.
On October 1, 2018 after long conversations about painting, literature, recordings, travel and of course music and pedagogy a dazzling idea emerged:
"What if we created a You Tube Channel for teaching repertoire?"
After 9 months of elaboration "Cello Kids" is born on July 1, 2019!
Valérie AIMARD
Cello
Recognized by the musical review Diapason as "an exceptionally original artist", french cellist Valérie Aimard is popular with musicians and audiences for the great sensitivity of her playing and her musical intelligence. An outstanding chamber musician, V. Aimard has performed concerts in over 30 countries.She has been invited on several occasions to the legendary Marlboro Festival (USA).
She studied with Michel Strauss and Philippe Muller at the CNSM in Paris. Encounters with illustrious musicians as David Geringas, Lluis Claret, Janos Starker, later enriched her musical development. In 1992 she met the American cellist Bernard Greenhouse, who became her mentor.
Very influenced by the great Hungarian pianist and pedagogue György Sebök, Valérie Aimard is very much involved in teaching. She is a cello teacher at the Maurice Ravel Conservatory (Paris 13th), a chamber music teacher at the CNSM where she taught « Didactic » at the Pedagogy Department for 10 years.
Valérie Aimard is also a mime. She has created several one woman shows: "Bulles","Quelle histoire !!! », « Fantaisie musicale ».
This openness allows her to offer original masterclasses combining music, mime and body expression. She has been invited by Conservatories in Paris, Lyon, Toulouse, Dijon, Cello Festival of Beauvais, Augsburg Musik Hochschule, Ruhr Piano Festival (Germany), "L'AmiRéSol" (French Association of Violinists).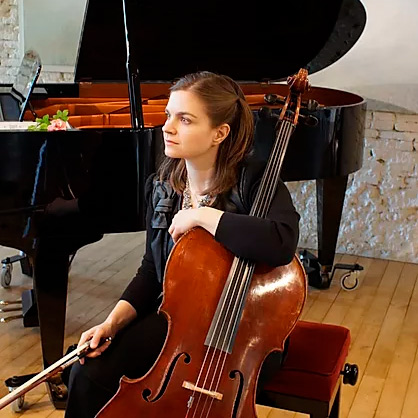 Antonina ZHARAVA
Cello
Born in Belarus to a family of artists, Antonina Zharava chose to settle in Paris where she established a performing and teaching career. A graduate of the CNSM of Paris in the class of Philippe Muller, she is inspired and encouraged by great musicians in France, Russia and the United States (Emmanuelle Bertrand, Ralph Kirshbaum, Leon Fleischer, Pamela Frank).
Winner of international prizes, she has been invited to perform in France and around the world: Festival Pablo Casals (Prades, France), Festival Ravinia (Chicago, EU), Festival Verbier (Verbier, Switzerland), Heifetz International Music Institute (New Hampshire, EU).
Antonina Zharava is passionate about teaching and transmission. Professor of cello and chamber music at the Conservatories of the 6th and 13th arrondissement of Paris, she creates educational projects in connection with other artistic forms (painting, juggling, improvisation, digital) which testify to her innovative approach to teaching.
Antonina holds a Master of Pedagogy, the Certificate of Aptitude and the Public Service, and has been invited to give master-classes notably by the Higher Academy of Music in Sarajevo and the Higher Conservatory of Minsk.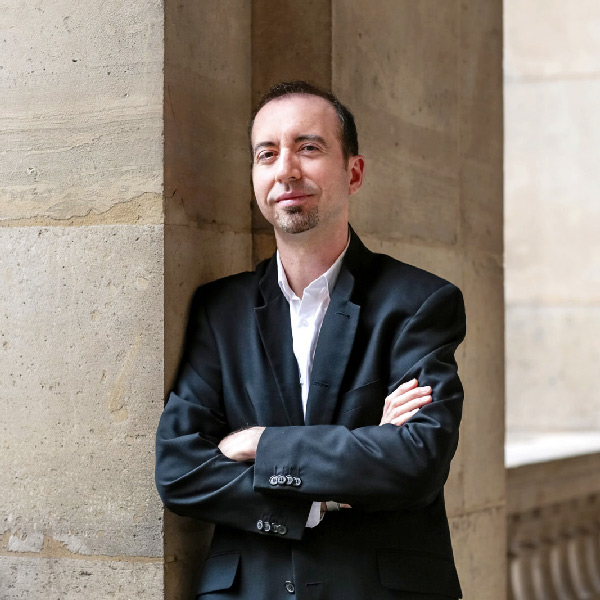 Cédric LOREL
Piano
An eclectic musician, Cédric Lorel is particularly passionate about accompaniment, chamber music and teaching. He performs in different fields: dance, theater, opera, musicals. He is also the pianist of the Caliente Quartet, one of the most prominent ensembles of the "Nuevo Tango", with which he has produced several remarkable albums.
A graduate of the CNSM of Paris in piano, chamber music, accompaniment and harmony, he studied in particular with Billy Eidi, Henri Barda, Jean Koerner, Christian Ivaldi.
Professor of accompaniment at the Conservatoire J. Ph. Rameau (Paris 6th), Cédric Lorel is highly sought after in this field. He is an accompanist of instrumental classes at the Conservatoire M. Ravel (Paris 13), of woodwinds and sight reading classes at the CNSM and is often asked to accompany important summer festivals, international competitions as well as the « Orchestre Français des Jeunes », the « Orchestre de Paris », the ensemble « Le Palais Royal » or the « Choeur de Radio-France ».